Maps from the territory of Hungary / GPS and EOV koordinates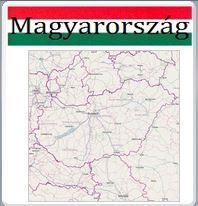 Dear visitor,
We offer for a comprehensive use this map collection containing all kinds of maps available from the territory of Hungary and not presented together in such a way anywhere else.
This map system can be of interest for nearly everyone since it also contains layers of public transport and touristic routes.
For professional visitors the possibility of GPS and EOV coordinate readout and the ease of distance and area measurements can be useful, together with printing possibility, especially for bidding or planning purposes.
We are also indicating our geographic information systems operating in different parts of our country. You can reach them by clicking on ErdaGIS icons. We would gladly accept your remarks and suggestions submitted on any of our contact possibilities.
You can enter the map system in a full window here: